SAS
School Accounting System
Easy-to-Use. Flexible. Cost-Effective.
We handle the hosting, updates, and backups.
Accounting software so easy-to-use, flexible, and cost-effective that it consistently exceeds your expectations. We do it every day by listening to the very best authorities, our customers.
The School Accounting System can be installed on local hardware, or our cloud-based option provides anywhere, anytime access to allow you to focus on what is really important – your job. We handle the hosting, updates, and backups, so you can sleep well knowing your financial data is safe and secure.
Payroll
Payroll is date-driven and utilizes one-time entry to save time and simplify business operations. Whether calculating taxes and deductions, tracking employee absences, or importing electronic time cards, Payroll is the most complete in-house solution for your business office. Comprehensive reporting; with over 80 standard reports in Payroll alone, finding the right report will never be a problem. The system eliminates the need for preprinted government forms, saving the district time and money. Generate 941, Schedule B, W2, and 1094 and 1095 forms to the screen, edit and print to plain paper. 1094 and 1095 electronic submission is simplified through the IRS Affordable Care Act Information Return (AIR) program. To save you time, enjoy the ability to email password protected direct deposit stubs or use the optional Web Link module to provide online access to pay stub information, leave balances, government forms and reporting. Furthermore, Payroll meets your state reporting requirements for Retirement, Unemployment, Workers' Compensation, 403b, and more and generates the state upload files, where necessary. It couldn't be easier.
Accounts Payable
Accounts Payable is the perfect tool for streamlining your payables process. With over 40 standard reports and unlimited customizing options, you will always have information at your fingertips. There is no need to purchase preprinted government or purchase order forms as the system automatically generates 1099s and purchase orders. Purchase orders can be customized for your school; you can easily insert a school logo, detailed descriptions, or other special requests on the purchase order template and print directly to plain paper. Integrate the Web Link module to provide a completely paperless Requisition entry and approval workflow that flows seemlessly into Accounts Payable. Purchase order and invoice entry saves you time by offering numerous user options to customize entry screens; showing just what you want, not more than you need. Import P-Card and credit card transactions to maintain detailed vendor history. Another great feature allows you to import invoiced assets directly into the Fixed Asset Inventory add-on module, virtually eliminating double entry.
General Ledger
General Ledger integrates the Activity fund along with GASB 34 funds to reduce expenses and make reporting easy. Flexible Financial Reports allow you to quickly modify existing reports and customize them to fit your needs. The auditor-requested check reconciliation process ensures an accurate balance. Customers enjoy the ability to import cashed checks electronically! Journal and cash receipt entry are simplified and generate an on-screen detail listing to keep you on track. Chart of accounts maintenance allows you to build new account numbers in seconds. The Annual Report, customized to your state's requirements, generates entirely within the system and has user-friendly entry and editing screens.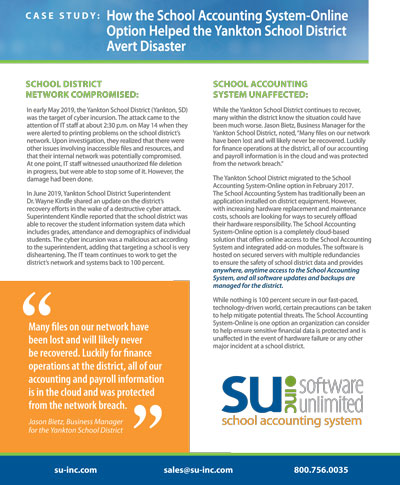 K-12 schools are targets for hackers. Learn how one school almost lost everything and how we protected their most important financial data with our School Accounting System. 
In early May 2019, the Yankton School District (Yankton, SD) was the target of cyber incursion.While the district continues to recover, many within the district know the situation could have been much worse. Jason Bietz, Business Manager, noted, "Many files on our network have been lost and will likely never be recovered. Luckily for finance operations at the district, all of our accounting and payroll information is in the cloud and was protected from the network breach."
Click here to read the full case study and see how our School Accounting System-online option helped Yankton School District (SD) avert disaster.
Add-on Modules
Grow into the School Accounting System and keep costs in check by licensing only what you need.
ACA reporting was awesome! It worked so well and the direct connection with the IRS was the best!
- Lori Torkelson
I love how user friendly the modules are.
- Anne Moe
I think this is a great accounting system.
- Cindy Peters
New school support is amazing! I have only been using this software for 6 weeks, and with the help from the training and support team, I feel very comfortable using the system without assistance.
- Jamie Pavey
I am very impressed on how on top of the Missouri DESE code changes you are.
- Donna Davis
Software Unlimited is always on top of the ever changing rules to help us stay in compliance.
- Paula Benson
The training and support is fabulous!
- Christy Thomas
Your support is AMAZING! I know you will always have an answer for my questions and I will get them quickly.
- Elleah Wiebelhaus
Thanks for everything you did to get our district up and running with the School Accounting System. It has been a pretty smooth process overall and has relieved a lot of stress and pressure for me!
- Lisa Bixler
I love this product and all of the support we receive with it.
- Angie Vetter
I love the SU program. It is user friendly and your Help desk is wonderful.
- Jeanise Malone
As a company, you listen to the needs of the school, and we have found that you incorporate those needs into the software.
- Michelle Meier
Customer service is efficient, friendly, helpful, knowledgeable and clear with instructions.
- Jeni Schindler
A lot of new programs today are hard to understand…the way your programs are written are straight forward and I understand the flow.
- Dale Weiss
You are so proactive – if there is a change in any aspect of the law you make the change and have it available for us before it is needed.
- Julie Keckler
I have only great things to say about Software Unlimited, Inc.'s customer support team. I always receive the help I need and I am very impressed with the entire team!
- Patti Syverson
I have been using the system for over 26 years. It is very easy to use, and the support is tremendous.
- Clara Lensing
I've worked with several software vendors and have never received the level of support that SUI provides.
- Kathy Leonard
The customer support over the phone and the face-to-face training session have been very well done and helpful.
- Eric Hansen
SUI's customer support is second to none!
- Amy Kinne
I love the customer support! I never panic — all I have to do is pick up the phone.
- Guyla Alexander
The system is user friendly, the updates are timely, and the support staff is wonderful!
- Lori Dahl
Software Unlimited, Inc. provides an excellent accounting software package for schools!
- Kris Collison
SUI is excellent at keeping up to date with our state reporting requirements.
- Anita Stugelmeyer
The School Accounting System workshop I attended was full of wonderful information. Excellent training!
- Erika Imler
SUI just flows, everything makes sense, and it does everything you could possibly imagine wanting it to do…and then some!
- Kayla Hastings
I don't know how we business managers would be able to do all that is "thrown" at us without the Software Unlimited Program.
- Wanda Kost
The transition from our old program to the new SUI program was smooth and flawless!
- Kimberly Egerstaffer
Software Unlimited is continually improving the quality of their software and always has had excellent customer service.
- Lori Lorz